Meshinda Concert in  Culture Chameleons Workshop
Date: 16:00
Location: Gólya, Bókay János utca 34, Budapest, 1083
Free entry// contribution to the workshops with a chosen amount of donation
Be a Culture Chameleon and join us in order to make this festive season more colourful!
Let's meet at the first event of Culture Chameleons, where you will be invited to a cultural journey around the world, through which you will have the chance to take a glimpse into the life and colourful traditions of others.
Take part in our interactive workshops, where foreigners living in Budapest are given the opportunity to present their traditions and customs, which is the perfect way for a mutual sharing and learning experience. Celebrate with us!
Live music will be provided by Meshinda, who will bring you enchanting tunes rooted in Hungarian and Indian folk music.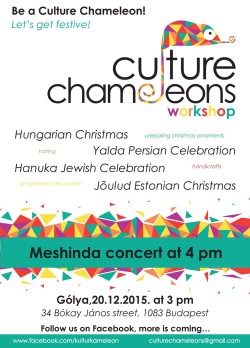 More information about Meshinda: https://guessousmajdamaria.hu/formaciok/meshinda/
http://meshinda.hu/
Facebook event can be found here: https://www.facebook.com/events/1626831530902812/
..